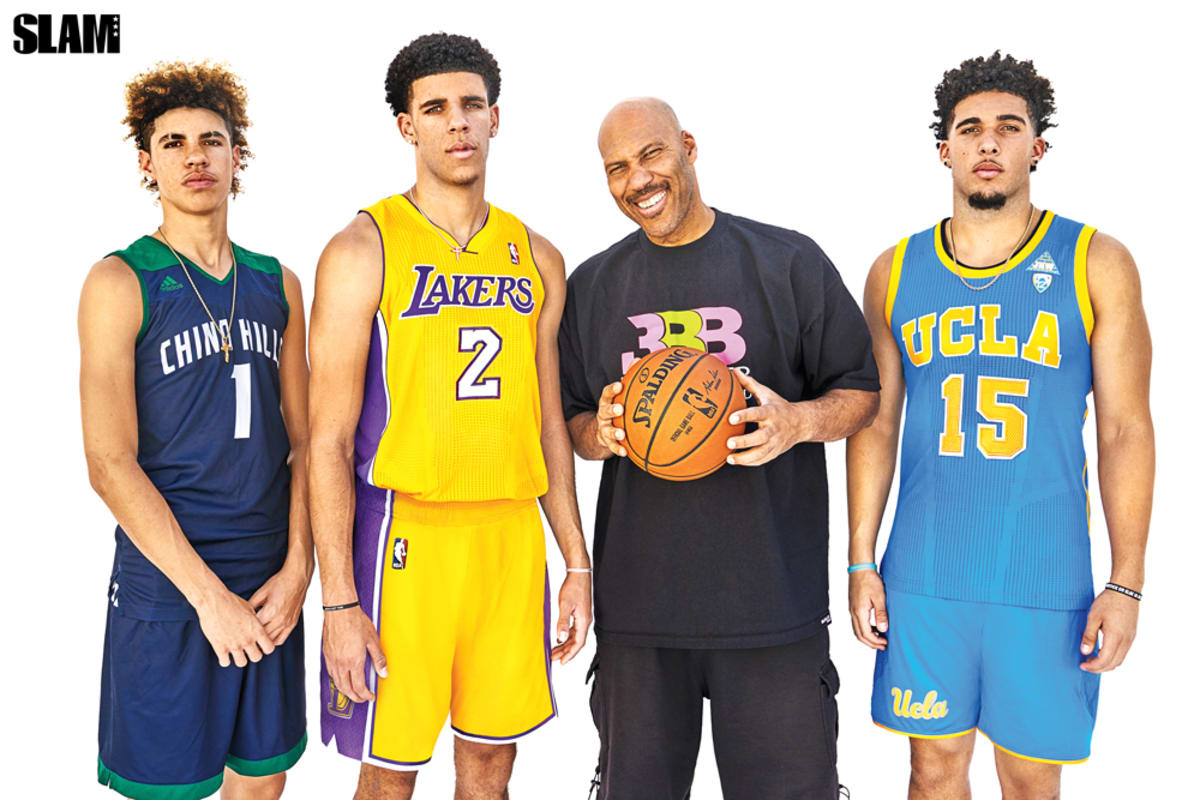 A few hours ago, several sports media outlets reported the news of LaVar Ball's desire to start a Junior Basketball Association, where High School Graduates who are looking to forgo attending college will have the option to begin a professional career here in the United States, receiving a monthly salary of $3,000 a month (or $10,000 if considered the league's best). Per sources, Ball seeks to fund this league entirely through his Big Baller Brand. The players will in turn exclusively wear Big Baller Brand apparel and sneakers on the court.
From LaVar's perspective, this idea is pure genius, if all goes as planned. This appears to be the only way to get somebody without the last name Ball to wear any of their BBB merchandise. Not to mention, if ten teams are formed out of a pool of eighty players (like he is seeking to do), this will generate a fair amount of revenue from game attendance, sponsorships, etc. This will give LaVar the platform to run what is likely to become a multimillion business, if all goes as planned.
On the flip side, any parent who allows their child to enroll in this league is short sighted to say the least. While I understand that the thought of your son earning a $3,000 monthly income at age 18 may be very appealing to many, this will only generate an annual income of $36,000, assuming this league lasts for twelve months a year. $36,0000, depending on your location, is not very much money. It is barely enough for survival after taxes are deducted. Secondly, many seem to overlook the fact that a professional basketball career only lasts a small fraction of one's life. The average NBA career lasts less than 5 years (assuming these players even make it this far). Once the said career is over, what else follows? This is where a college degree is beneficial. While college athletes do not get paid during their tenure at their respective institutions, they at least obtain a free education in exchange. This, in my opinion, is a fair tradeoff. It at least provides these young men with the tools to survive in the real world after a basketball career.
Lastly, and arguably most importantly, LaVar Ball's development methods have not exactly panned out to be effective. While his son Lonzo was able to climb up the NBA draft ranks and get selected second overall by the Los Angeles Lakers in the 2017 NBA Draft, Lonzo's game hasn't exactly translated to the NBA level quite like one would expect. While I understand that he is still young and finding his niche in the league, his failure to emerge as a star early in his career provides further evidence that LaVar may not be as much of a developmental wiz as he may think he is. As a parent, I would be much more inclined to have my son receive guidance from the trusted coaching at a Duke University or a University of Kentucky as opposed to what will seemingly be an experimental run with this proposed Junior league.
In sum, while I believe that this would be a smart business move on the part of LaVar Ball and the Big Baller Brand, I do not believe that enlisting with his Junior League is a good idea for developing athletes. Going to a top-notch Division one school is likely to put them in a better position to succeed as a professional basketball player. Furthermore, a college education is likely to put these young men in position to succeed after a professional basketball career. Remember, life goes on after basketball. For the foregoing reasons, the proposed Junior Basketball Association is a good idea for its creators, but a bad idea for the prospective members.
Photo Credit: